Best Samplers: The Ultimate Buyer's Guide for Hip Hop Producers
Are you a hip hop producer searching for the best sampler to create your next beat? Look no further. We've done the research and compiled this buyer's guide to help you find the perfect sampler for your needs.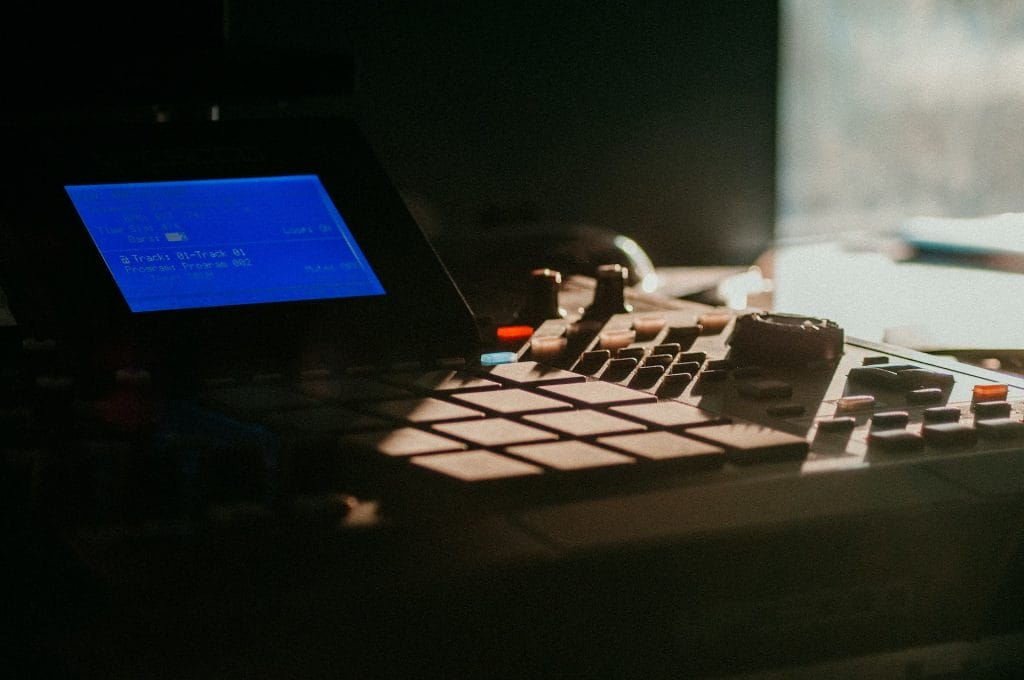 Before you continue, check out Sampling Essentials for a complete guide to sampling. It shows you the fundamental skills you'll need to flip any sample in less time.
Let's continue…
If you're a hip-hop music producer, one of the most essential pieces of equipment in your studio is a reliable sampler.
The right sampler will allow you to take samples from any sound source and manipulate them into new compositions for your hip-hop tracks.
That's why we've created this buyer's guide – we want to help you make an informed buying decision when it comes to purchasing the best samplers available.
In this article, we'll review some of the top-rated digital and hardware samplers on the market today and discuss their features, benefits, and drawbacks so that you can select the best option for your needs.
What is a Sampler?
A sampler is a piece of music-making hardware or software that allows you to record and manipulate sound.
Specifically for hip-hop producers, samplers allow you to take samples from any source – be it vinyl records or even your own voice – layer them over beats and other instrumentals to create powerful builds and drum lines. Ultimately, they bring out nuances that can't usually be achieved through traditional recording methods alone.
In the past, hardware samplers were limited by memory, but today's advanced offerings allow you to sample longer stretches of audio. Nowadays, samplers are highly sophisticated pieces equipment that provide seamless integration with major production platforms like Pro Tools, Logic Pro X and Ableton Live.
What to Look for in a Sampler
When shopping for a sampler, there are several key features you should keep in mind.
First, consider the type of sampler you need. Do you want to use it for live performance, or are you looking for something that will stay in your studio?
Second, think about how many sounds and samples you want to be able to store. If you plan on creating complex instrumentals and beats, then more is better.
Third, decide on the quality of sound you require – some samplers offer high-fidelity recordings while others may produce low-quality results.
Finally, think about the price range that fits your budget – there's a wide range of samplers available at different prices so it's important to find one that suits your needs and wallet.
I've organized this guide into two categories, one for the best all-around samples, and another for the best samples on a lower budget. With these guidelines in mind, selecting the perfect sampler for your hip-hop production setup should be a breeze.
Best All-Around Samplers
The best all-around samplers offer a great combination of features and performance at an affordable price. Let's take a look at the top choices.
Akai MPC X
The MPC X is the greatest release from Akai, one of the leading names in digital audio production. The MPC X offers an impressive array of features, including a 10" touchscreen, 16 velocity sensitive pads with RGB illumination, a sequencing grid for sample sequencing, and performance mode for live hardware manipulation.
The sampler includes both advanced and traditional sampling options, giving you the ability to manipulate sounds using either manual or automatic stretching techniques. Plus, the included 2GB onboard storage makes it easy to store and access your projects on-the-go without having to lug around bulky external drives.
Overall, the Akai MPC X is an excellent choice for hip hop producers, offering loads of creative options without sacrificing sound quality or ease-of-use. Its extensive feature set makes it ideal for producing complex beats with minimal setup time – perfect when you need to quickly lay down a track.
Native Instruments Maschine+
Maschine+ by Native Instruments is one of the most powerful hardware samplers on the market today. It features 16 pads and two touch strips, allowing you to easily control sound samples and drum loops.
Additionally, Maschine+ comes with thousands of sounds, kits, and loops that you can use to create your music.
This sampler is perfect for producers who want a streamlined experience, but also want a range of customization options. The software has an intuitive user interface which makes it possible to quickly locate any sound you need, or edit existing sounds and create new ones.
The hardware allows you to quickly switch between sounds or tweak parameters in real time, so you have more options for building beats with impact. Whether you're a beginner or a seasoned producer, Maschine+ is perfect for anyone who doesn't yet know all the technical terms but still wants a powerful sampler.
Elektron Octatrack MKII
The Octatrack MKII is a powerful digital sampler designed for live performance.
Unlike most digital samplers on the market, the Octatrack has an integrated sequencer and intuitive user interface, allowing you to record and manipulate samples in real-time with ease. You can also store up to 16 audio tracks or individual loops, giving you plenty of room to play with your sounds. Additionally, it comes with MIDI and USB connectivity, making it easy to use with other electronic music equipment such as synths and drum machines.
The Octatrack MKII also boasts onboard effects such as reverb and delay, enabling you to shape each sample into something truly unique. All in all, this is an incredibly versatile sampler with some great features that will take your beats beyond ordinary.
Best Low-Budget Samplers
If you're on a budget and still want to get your hands on some quality equipment, don't worry – there are quite a few samplers that fit within a tight budget.
Here are some of the best low-budget samplers currently available:
Elektron Digitakt
One of the most popular samplers on the market today is the Elektron Digitakt. This sampler not only offers eight audio tracks and eight MIDI tracks, but it also comes with a variety of creative tools for manipulating your samples.
The Digitakt has plenty of knobs and buttons that allow you to fine-tune your sound, from complex high-pass filters to volume and pan adjustments.
Additionally, its built-in sequencer enables highly advanced quantization and sample programming. These features make it easy for even beginning producers to create intricate and exciting grooves in no time at all.
Digitakt also allows you to save up to 128 projects on internal memory, making it great for saving ideas or entire songs quickly. Additionally, the device's USB port doubles as both an audio interface and data transfer port so that you can quickly share files with other devices or move them into software programs like Ableton Live or Logic Pro X.
Finally, the Digitakt also offers 10 velocity-sensitive pads as well as two assignable 1/4" inputs so that you can connect synths or drum machines directly to the device.
Roland SP-404
The Roland SP-404 is an analog sampler created for portability. It features 16 pads and multiple effects that can be used to make your projects stand out. It has a built-in FX engine and 88 onboard sounds, as well as a large color LCD screen with crisp visualization.
This sampler also offers 16 velocity sensitive pads with adjustable pressure and customizable sliders so you can easily control the volume of individual samples.
The built-in effects are also versatile enough to take your productions to the next level, ranging from filters, distortions, echoes, pitch shifters and more. This sampler can also be connected to an external mixer or recorder for further options for processing sound.
Polyend Tracker
The Polyend Tracker is an advanced multi-track digital sampler that allows you to sample multiple sources and manipulate those sounds into fresh tracks with ease.
It features a high-contrast OLED screen, 64 MIDI channels, a 2-in/2-out USB audio interface, an 8-track sequencer, and a range of sample manipulation tools. It utilizes 16 high-density drum pads for programming immersive loops and samples to create intricate hip-hop beats.
You can also quickly layer samples, and dynamically shape them in real time with filters and mixers. Additionally, the tracker comes bundled with a free suite of software libraries ready to fuel your creativity.
If you're looking for a powerful and intuitive sampler that will take your Hip Hop production to the next level, then check out the Polyend Tracker.
Should You Use a Software Sampler or Hardware?
Before you decide to purchase a hardware sampler, you should also consider whether a software sampler would be a better choice.
Software samplers are digital programs that allow you to create and manipulate samples on your computer. They're often more affordable than hardware samplers, they're easy to use, and they offer a wide range of features.
On the other hand, hardware samplers are physical devices that produce samples with the help of knobs and buttons. They can provide a more hands-on experience for producers who want to tweak sounds in real time and take their music on the go. Plus, many models come equipped with built-in effects and recording capabilities.
No matter which type of sampler you choose, there are pros and cons to consider. Software samplers tend to be cheaper than their hardware counterparts but require a powerful computer for optimal performance. And although hardware samplers provide a tactile experience that some producers prefer, they can be pricey compared to software options.
Ultimately, it depends on your budget and preferences as an artist. Do your research before deciding which type of sampler is right for you.
How to Choose the Right Sampler
Different types of samplers offer different features, so it's also important to know what's available and what would work best for you.
Different models vary in size, with some smaller models offering fewer features than their larger counterparts. Other considerations include sample rate (the number of samples per second), storage capacity, MIDI compatibility, and audio inputs/outputs. Certain models may also offer specialized features such as sequencing capabilities and automated mixing functions.
Finally, remember that price plays an important role when selecting the right sampler. Models range widely in terms of cost and quality – make sure that you have a clear budget in mind before making your purchase.
Wrapping Up
Choosing a sampler is an important decision in your hip-hop production career. Ultimately, you need to consider your particular needs and budget.
There are plenty of great options available on the market today, and this buyer's guide provided some of the best samplers currently available to get you started. We hope this guide has helped you to find the perfect sampler for your setup.
Avoid This Common Mistake…
The last thing to remember is this:
You can learn all the skills, tactics, and tools in the world…
But nothing will save your beats if you choose the wrong samples.
Too many producers struggle because their sample collection is limited. This causes them to force sounds and tactics that don't work.
Check out Sample Quest for strategies you can use to uncover unique samples online.
These tactics are perfect for producers of all experience levels.
Don't miss your chance to overcome this common mistake.