Flute Samples: The Best Flute Sample Packs in 2023
Looking for the best flute samples for your music project? We found 12 of the best flute samples and loops available today.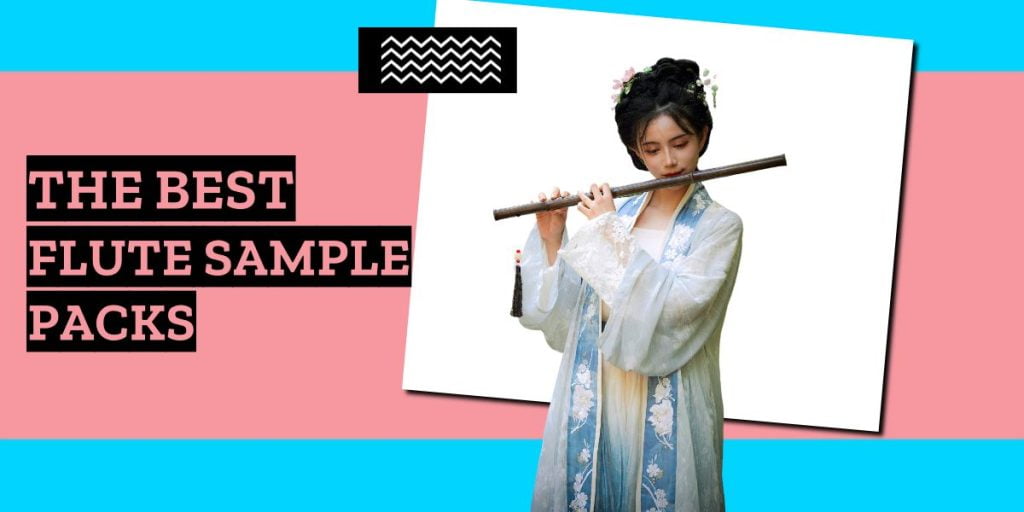 In this article, we've compiled a list of the best flute samples available today.
These sample packs offer a range of different styles, and capture the essence of the original instruments.
Best All-Around Flute Samples
Flute 1 by Image Sounds
Flute 1 by Image Sounds is a collection of live flute recordings by professional musicians. It can be used for a variety of genres, including pop, funk, chill out, lounge, hip hop, jazz or rock.
The pack includes 383 loops with tempos that range between 90 BPM – 110 BPM. Each loop contains tempo and key information, and its total file size is 265 MB.
Flute 2 by Image Sounds
Flute 2 by Image Sounds is another flute loop pack that consists of live flute sounds optimized and recorded in 24Bit and 44.1 KHz.
This instalment has slower tempos and mellow tones, designed to capture the natural sound of the instrument.
The pack features 512 flute loops in different musical styles. Its tempos range between 67 BPM – 97 BPM, and has a total file size of 328 MB.
Best Ethnic Flute Samples
Ethnic Woodwind by Organic Loops
Ethnic Woodwind consists of an exotic array of flutes, pipes and woodwind instruments from around the world.
It contains samples, loops, one shots and impacts recorded on a variety of rare ethnic woodwind instruments.
Chinese Woodwind by Loopmasters
Chinese Woodwind consists of flute recordings influenced by traditional Chinese melodies.
It contains a variety of samples, loops and one shots recorded by professional musicians.
Indian Bamboo Flute by Black Octopus
Indian Bamboo Flute is a complete sample pack inspired by the flute sounds of India.
It contains loops ranging from 80-100 BPM, one-shots and atmospheres with both wet and dry mixes.
Indian Bansuri Flute by Organic Loops
Indian Bansuri Flute is a collection of authentic flute parts.
It contains a range of loops in different keys, tempos and playing styles.
Arabian Flutes by IQ Samples
Arabian Flute Loops contains 215 unique loops recorded in a professional studio environment.
It includes melodies for all Keys/Scales, and is suitable for a wide range of genres.
World Woodwind Series – Oriental Ney by EarthMoments
The Oriental Ney Bundle is a library of 246 ethnic Ney flute loops played by professional musicians.
This pack is influenced by one of the oldest musical instruments, the Ney.
Best Mellow Flute Samples
Live Series: Chilled Flutes by Famous Audio
Chilled Flutes is a collection of ambient flute melodies played by professional musicians
It contains 300 flute loops (dry & wet versions) in 5 different tempos – 80BPM, 90BPM, 100BPM, 120BPM, 140BPM. All loops are labeled with the correct key and tempo information.
Jazz Lounge Flute by Frontline Producer
Jazz Lounge Flute is a collection of lounge-influenced flute recordings.
It contains 319 loops in tempos ranging from 80-140BPM. All loops have been labeled with both tempo and key information.
Best Trap Flute Samples
Flute Essentials by Kits Kreme
Flute Essentials features live recorded flutes from around the world.

It contains 40 loops that are labeled with tempo information.
Trap Flutes by LBandyMusic
Trap Flutes is a collection of flutes influenced by a Trap style.
It includes 60 flute loops with tempos ranging from 98-165 BPM in a variety of keys and scales.

It also comes with a bonus pack of miscellaneous loops (Drums, Keys, Bells, 808s and more) and a folder of MIDI files so you can use the melodies with other sounds.

Avoid This Common Mistake...
The last thing to remember is this:
You can learn all the skills, tactics, and tools in the world…
But nothing will save your beats if you choose the wrong samples.
Too many producers struggle because they don't know how to identify the right samples. This causes them to force sounds that don't belong.
That's why it's crucial to learn sample selection.
But there's still one small problem…
How do you know which samples to choose?
Follow this simple strategy that detects the perfect samples in 30 seconds or less. 
It's perfect for sample-based producers of all experience levels.
Click here to find out how you can stop wasting time with the wrong samples.
Don't miss your chance to overcome this common mistake.