As a beginning music producer, you may not be ready to spend money on expensive equipment, including a digital audio workstation.
Luckily for you, you don't need to spend money to build your own home recording studio.
In this post, we're going to uncover the top free beat making software on the market.
We evaluated the options based on the essential features every beat maker needs:
A step sequencer, a native sampler, and compatibility with third party plugins.
So which is the best free beat making software?
MPC Beats is the newest choice, and is excellent for traditional beat making workflows.
Also, Cakewalk is the most full-featured program, but has a steep learning curve for beginners and is only available for Windows.
Finally, Waveform Free and LMMS are simple and intuitive programs, but have limitations which separate them from truly competing with the established paid options.
Generally speaking, your decision will ultimately come down to your particular needs. All of the options on this list are good choices, but your long term plans as a beat maker will be the determining factor.
Before we get into the full analysis, let's clear up a few common questions…
Should you use free beat making software?
If you are a beginner, your best option to start making beats is to choose a free digital audio workstation.
Why pay for software before you know what you need from it?
During your early phases as a music producer, you will need to learn the basics of music production, and all DAWs – free and paid – provide a similar workflow.
Choosing a free beat making platform will help you get the hang of beat making before you know what works best for your needs.
Once you've learned the basics and are ready to commit to making music regularly, then you should start looking into the paid offerings.
Is free beat making software safe to download?
It's important to be cautious when downloading any software, especially if it's coming from a questionable vendor.
In the case of downloading music production tools, all the choices on this list are offered by reputable software companies.
You should feel safe that there won't be any issues when downloading these programs. However, just be sure you download them directly from the vendor's website.
Now that we've covered the basics, let's cover the best choices for free beat making software.
Top Choices
First, let's take a look at our recommendations for the best free beat making software.
Cakewalk by BandLab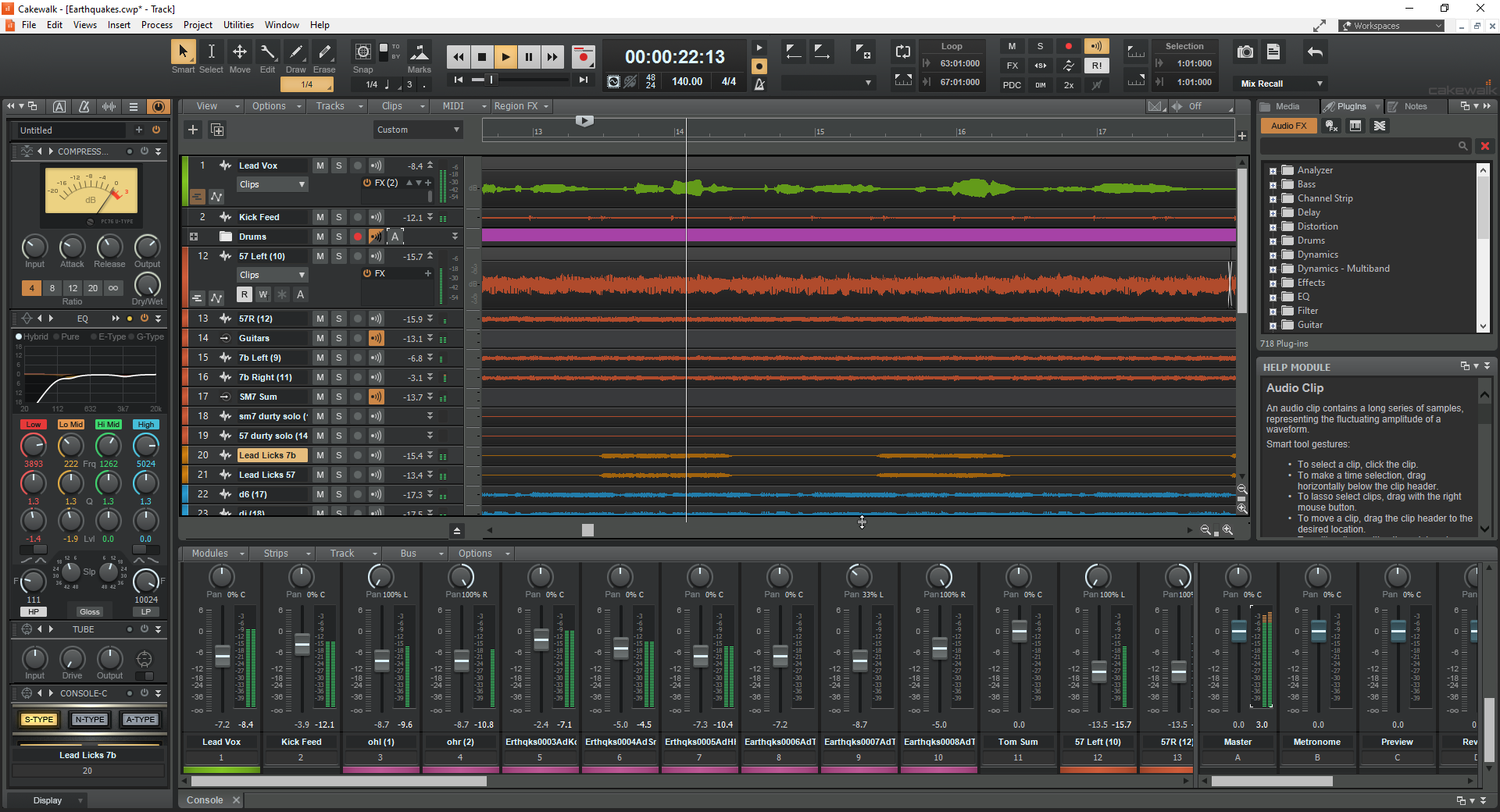 Cakewalk by Bandlab is a Windows only software based on a paid program called SONAR Platinum.
It comes with a variety of native plugins, a step sequencer, mixer, and third-party plugin support.
Cakewalk is a very stable platform, supported with frequent updates, and has powerful mixing capabilities with its ProChannel modules.
On the surface, this DAW is a dream for most producers…
However, because of its professional capabilities, the interface may feel confusing as a beginner, and the workflow may also feel less intuitive than other simpler programs.
It's also limited to Windows only, which is a problem if you plan to collaborate with other producers who use another operating system.
Finally, for music samplers, Cakewalk lacks a dedicated audio editor, and doesn't include a built-in sampling plugin.
Overall, Cakewalk is a powerful music production platform for a specific set of users. It's perfect for intermediate producers who use Windows and don't rely on superior sampling features.
If that sounds like you, then Cakewalk might be the best compromise for anyone who wants powerful beat making software for free.
Pros
Supported with frequent updates
Powerful mixing capabilities with its ProChannel modules
Includes bundled loops and instruments
Support for third-party plugins
Includes a step sequencer
Cons
Lacks an audio editor
Windows only
No sampling plugin included
Waveform Free
Waveform Free, by Tracktion, is a simple to use program with everything you need as a beat maker.
It comes bundled with all the essential plugins, including a sampler and mixing suite (EQ, reverb, delay, chorus, phaser, compressor/limiter, pitch-shifter and high/low-pass filter).
Unlike Cakewalk, Waveform features an intuitive interface where all functionality is managed in a single view. It's especially friendly for beginners with a popup window for most functions, accessible by hovering your cursor over the audio files.
Waveform also has professional-grade automation capabilities, cross platform support, and full support for third-party VST plugins.
The only downside is its limited mixing capabilities, which shouldn't affect most beat makers getting started with free software.
Overall, Waveform is very simple and intuitive, especially for beginners. If your focus is beat making combined with simple mixing capabilities, then this is a great choice.
Pros
Bundled with essential plugins
Automation capabilities
Full support for VST plugins
Cross platform support
Supports MIDI, step sequencing and sampling
Cons
MPC Beats
The latest entrant into the free DAW space is MPC Beats, developed by AKAI.
AKAI is famous for its world-class hardware samplers, and its new software is a fresh take on the MPC workflow.
MPC Beats provides all the essential tools for Hip Hop beat making:
Virtual drum pads, a step sequencer, time-stretching capabilities, third-party plugin availability, support for a MIDI controller, and audio effects.
MPC Beats also comes with a 2 GB collection of drum kit samples and loops, with additional expansion packs available for purchase in their online store.
For seasoned music producers, you could also use this software as a plugin within other DAWs such as FL Studio and Logic Pro X, which means you can continue to use the software even after you've upgraded to a paid option
Overall, MPC Beats is the best choice for Hip Hop producers who may upgrade their DAW later, and would like to incorporate a robust sampling workflow into their process.
Pros
Includes an advanced step sequencer, virtual drum machine and sampler
Akai provides a free training video series for beginners
Cons
The newest option, which means it does not have an established community of producers
GarageBand
GarageBand is a music production suite built for Mac OS by Apple.
It's simple and intuitive for most beginners, includes a large library of loops and virtual instruments, and supports several third-party plugins.
It also gets regular updates and additions to the sound library with each release of Mac OS.
The layout and workflow are similar to Logic Pro X, which makes the transition fairly smooth if you decide to upgrade to professional grade software in the future.
However, Garageband is less than ideal for beat makers because of its limited step sequencing and sampling capabilities.
Overall, Garageband is great for MIDI sequencing and recording, and is easy to get started with if you own a Mac.
Pros
Extensive instrument and loop library
Wide support for third party plugins in AU format
Frequently updated and supported by one of the biggest companies in the world
Cons
Limited mixer
Mac OS only
Limited step sequencing and sampling capabilities
LMMS
LMMS is an open-source software that is compatible with all major operating systems.
It was designed for simple beat making, and offers a similar workflow to FL Studio.
LMMS includes a step sequencer, piano roll and playlist, and is bundled with several virtual instrument and effect plugins.
Compared to other options, the user interface is somewhat clunky and unappealing. Some users have complained that it can sometimes be unstable, and support is fairly slow to respond to requests for help.
Overall, LMMS has all the basic features that a beat maker needs. It also has a thriving producer community, and is a great choice for producers who want a smooth transition to FL Studio.
Pros
Bundled with sounds, virtual instruments and effect plugins
Cross platform support
Includes a step sequencer
Cons
No audio recording
Stability issues
Limited support for third party VSTs
Limited mixer
Cannot change the tempo of a sample without changing its pitch
Limited audio editor
Studio One Prime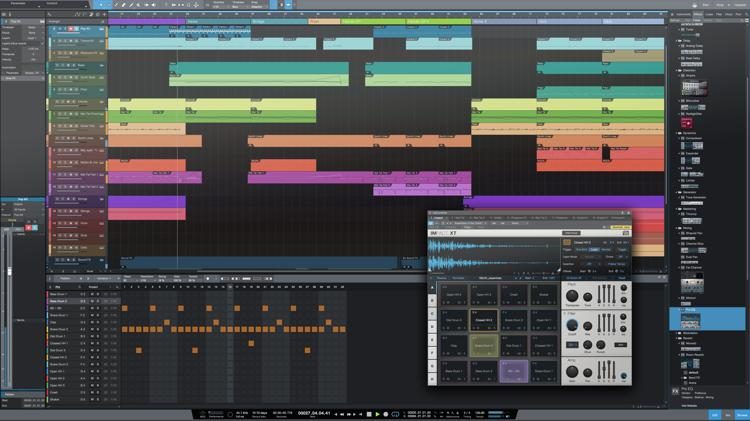 Studio One Prime by PreSonus is an established DAW that is excellent for producers whose focus is sound design or audio recording.
The free version offers unlimited audio tracks and mixer channels, time-stretching, multi-track comping, full MIDI support, advanced automation, and Studio One's simple side-chain routing workflow.
However, the software is offered as a trial for its premium offering, which means certain features are missing from the free version.
Overall, Studio One offers a professional grade software – with limitations. If audio recording and mixing are your priority, then Studio One may be a good choice for your needs.
Pros
Includes a step sequencer
Extensive mixing capabilities
Cons
No sampler plugin included
Limited MIDI editing functionality
No third-party plugin support in the free version
Which Free DAW will you choose?
Regardless of which software you choose, all the digital audio workstations on this list will help you make high quality beats.
The decision of which to choose comes down to your workflow as a producer.
For a complete production suite, choose a tool like Cakewalk or Studio One Prime. Just beware the limitations in these options due to their freemium pricing.
Alternatively, choose LMMS or Waveform Free for standalone software that won't require you to upgrade. These options will allow you to get as close to a premium, full-featured DAW experience, but are slightly limited in their quality and support.
Otherwise, if you are looking for a pure beat making experience, then look no further than MPC Beats, which provides one of the best beat making workflows for Hip Hop production.
Again, take a moment to consider the workflow that fits your needs, and test the top choices for yourself to find the best tool for you.